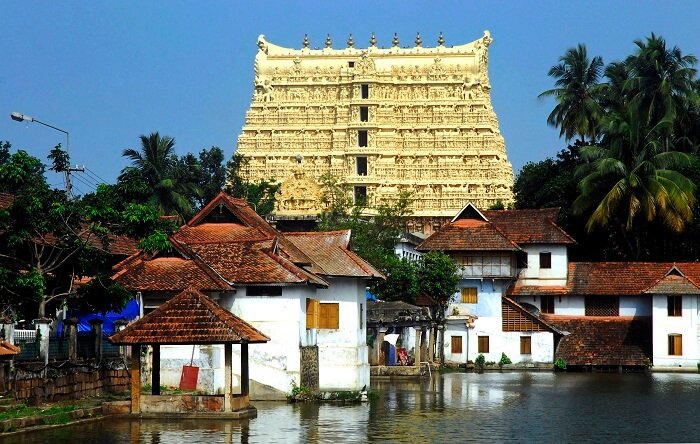 Padmanabhaswamy Temple
Temples
W Nada, East Fort, Pazhavangadi, Thiruvananthapuram KERALA
Padmanabhaswamy temple is located in Thiruvananthapuram, Kerala, India. The temple is built in an intricate fusion of the indigenous Kerala style and the Dravidian style of architecture associated with the temples located in the neighboring state of Tamil Nadu, featuring high walls, and a 16th-century Gopuram. While the Moolasthanam of the temple is the Ananthapuram Temple in Kasargod, architecturally to some extent, the temple is a replica of the Adikesava Perumal temple located in Kanyakumari District. It is the richest Hindu temple in the world. In terms of gold assets and precious stones, it is by far the wealthiest institution and place of worship of any kind in the recorded history of the world, with an estimated $22 billion worth of gold and jewels stored in underground vaults (not accounting for historical value). At the time of writing, only 5 of the 8 underground vaults had been opened and explored
The principal deity Vishnu is enshrined in the "Anantha Shayanam" posture, the eternal yogic sleep on the serpent Adisheshan. Sree Padmanabhaswamy is the tutelary deity of the royal family of Travancore. The titular Maharaja of Travancore Moolam Thirunal Rama Varma is the trustee of the temple as Sree Padmanabhadasa, the slave of Lord Padmanabha. In line with the Temple Entry Proclamation, only those who profess the Hindu faith are permitted entry to the temple and devotees have to strictly follow the dress code.
The shrine is currently run by a trust headed by the erstwhile royal family of Travancore.
Worship time at the Sree Padmanabhaswamy temple
Morning hours:
03:30 a.m. to 04:45 a.m. (Nirmalya Darshanam)
06:30 a.m. to 07:00 a.m.
8.30 a.m. to 10:00 a.m.
10:30 a.m. to 11:10 a.m.
11:45 a.m. to 12:00 Noon
Evening hours:
05:00 p.m. to 06:15 p.m.
06:45 p.m. to 07:20 p.m.
Temple worship timings are subject to change during festival occasion.
Dress code to be followed at the temple:
Only Hindus are permitted inside the temple.
There is a strict dress code that needs to be followed while entering the temple. Men need to wear mundu or dhoti (worn around the waist and going down up to the heels) and should not wear shirts of any kind.
Women need to wear sari, mundum neriyathum (set-mundu), skirt and blouse, or half sari.
Dhotis are available for rent at the temple entrance. Nowadays temple authorities allow wearing of dhotis over pants or churidhar to avoid inconvenience to the devotees.